Maple Class
If your child (or the class bubble) needs to self isolate, the Year 3 team will be in contact with home learning when it is necessary.
Teaching Team: Mrs Smallcombe, Mrs Tompsett and Mrs Jadapalli
maple@st-barnabas.kent.sch.uk
Dear Parent/Carer,


Summer Term:
Summer Term:
Year 3 Curriculum Information
Working with your child this term will be Mrs Smallcombe, Mrs Tompsett (Fridays) and Mrs Jadapalli, with Mrs Johnson also covering on a Wednesday afternoon.
The theme for these two terms is 'Walk like an Egyptian'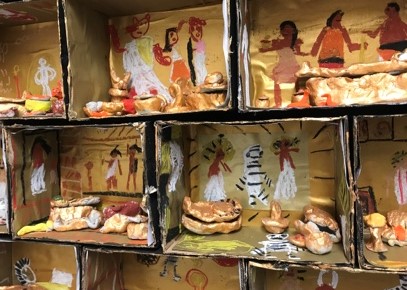 This unit of study will cover aspects of the History curriculum, focusing on life in Ancient Egypt, including what it would have been like to live during that time, Tutankhamun, mummies and the Egyptian gods. The children will be creating their own tomb and death mask, and trying their hand at making paper and writing with hieroglyphics.
In English, we will focus on the use of 'Direct Speech', paragraphs and narrative, creating our own stories based on the King of Sky by Nicola Davies. We will then move on to poems, comparing and contrasting different poems before writing and performing our own.
In addition, your child will be learning about the following:
Maths – Fractions, time, shapes and mass/capacity.
ICT – Emails, databases, simulations and presentation skills.
Science- Examining plants, conducting an experiment and looking at the features of flowering plants.
RE – The Kingdom of God and Sikhism.
PE- Athletics, striking and field games.
Art/DT- Ancient Egyptian tomb models, death masks (papier mâché), movement and life painting.
Please support your child's learning with:
Reading: We expect all children in Year 3 to read for at least 15 minutes, 5 times per week. We kindly request that book bags and reading records are brought in to school every day. Books are changed on Mondays and Thursdays.
Online Activities: Each week, your child will be set an online learning activity. This will alternate between an online SPAG activity and an online Maths activity. You can find details of this activity each week by visiting the Year 3 Blog. All relevant passwords and login details will be stuck into your child's home learning book.
Home Learning Books: Each week, we will send pupils home with an activity to complete in their home learning book. This will alternate between a Maths activity and a Writing activity. In Maple Class, home learning books will be handed out every Tuesday and collected every Monday. We will also upload this activity onto the Year 3 Blog along with any digital resources (learning videos for example) that may support your child with their learning at home. This work can be submitted by returning your child's home learning book or by sending it in via the class email address: maple@st-barnabas.kent.sch.uk.
Wider Curriculum Activities: A wider curriculum activity matrix is currently being created for your child. When it is complete, we will stick a copy into your child's home learning book and add a digital version to the Year 3 Blog. Completion of these activities is not compulsory and families can choose how many of these activities they complete each term. If your child would like to share a completed wider curriculum activity with us, they can put it in to their home learning book and hand it in or send it in via the class email address.
Just a few reminders:
PE Kit – It is essential that your child has a house T-shirt, shorts and plimsolls or trainers in school every day so that they can participate in PE activities. In addition, long tracksuit type trousers are useful in the Winter months for outside PE. Long hair needs to be tied back for PE so please ensure your child wears a hairband to school. Also, earrings need to be removed or covered with tape during PE lessons. If your child is unable to remove their own earrings, please provide some microporous tape to cover them. This term, PE will be on a Thursday and Friday. Please ensure that your child's belongings are labelled.
Water Bottles
In order to help your child to stay hydrated and be ready to learn, please make sure that they bring a labelled water bottle to school with them every day. We kindly ask that bottles are filled with water only- rather than juices or squash.
Pencil Cases
There is no need for your child to bring in any additional stationary. If your child requires any additional resources for a specific learning task or activity we will let you know in advance so it can be arranged.
Toys and Games
In order to help us avoid any unnecessary distractions from our learning and stay safe, we kindly request that toys and games from home are not brought into school.
If you have any concerns or queries about information included in this letter or any other matter relating to your child's education, please do not hesitate to contact us via the class email address: maple@st-barnabas.kent.sch.uk
Many thanks,

Mrs Smallcombe, Mrs Tompsett, Mrs Jadapalli and Mrs Johnson.