Chestnut Class
Teaching Team: Mrs Barter, Mrs Chavush and Mrs Swannell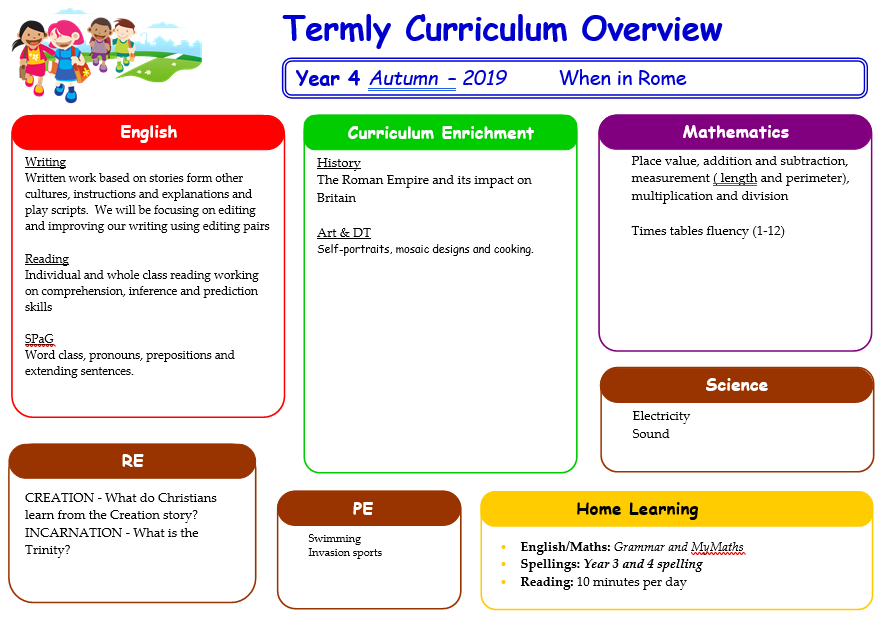 Chestnut Class - Autumn term 2019
Welcome back to school! It is lovely to see the children after the break and we are all ready to get learning again. This is just some information about what we will be covering this term, and always feel free to speak to me if you have any further questions.
English
We will be linking all our English work to our topic theme of 'When in Rome'. We will be reading stories from other cultures, instruction texts, recounts and play scripts to inspire our own writing.
Spelling will focus on the statutory Year 3 & 4 list, adding suffixes, prefixes and looking at unusual spelling patterns.
Maths
We will be refreshing our understanding of place value to begin the year before moving on to addition, subtraction, multiplication, division and length. This year, the class will be completing the statutory national times tables assessment and regular practise at school and home is essential.
RE
We are using the RE curriculum Understanding Christianity again this year and will be examining some key concepts starting with Creation and Incarnation.
cience
Sound and Electricity are our themes for the term and we will be carrying out lots of practical work to help us understand how sound travels and how circuits function.
Topic
Our topic is 'When in Rome' and we will be learning about life at that time, key historical figures and events. Our art and design technology will be linked to the topic.
PE
We continue to have swimming lessons on Friday afternoon, plus additional PE sessions on Wednesday and Friday mornings. Please ensure your child has a labelled PE kit in school all week.
Homework and reading
Homework will be issued on a Thursday and is due back on a Tuesday. It is not intended to be overwhelming, but gives your child an opportunity to consolidate on the learning they have done during the week. It will usually consist of English, spelling and Maths activities.
We expect your child to read for a minimum of 10 minutes a day. We would like them to complete the reading log by making some comments on what they have read each day. This will be checked once a week. In Year 4, we ask that children take responsibility for changing their books themselves if they are reading from the classroom selection.
If you have any concerns relating to your child and their learning, please see me in the playground before or after school, or call the school office to make an appointment.
With best wishes,
Mrs Barter and the Chestnut Class Team