Term 6 Week 6 Home Learning Tasks
Here are the Home Learning tasks for Wednesday 12th July 2023. Completed Home Learning tasks need to be handed in by Monday 17th July 2023.
Maths
This week we would like you to practise putting the months of the week in the correct order. There are word cards attached to this Home Learning. Cut out the words and muddle them up. Can you put them back in the right order?
Now try answering the questions below: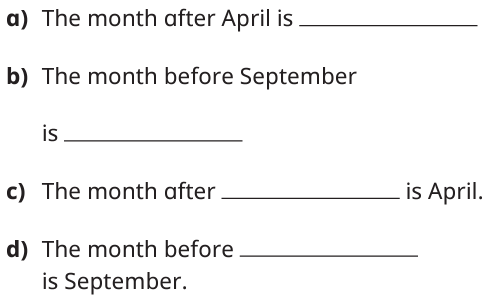 Can you make up your own maths questions about the months of the year?
Spelling/Phonics
Group 1 - This week we would like you to practise using words containing the 'un' prefix, such as unsafe and unwell. Complete the 'Home Learning Challenge' on the attached sheet.
Group 2 - Complete the attached sheet by finding the missing CVCC words.
If you have any questions or need help with anything please contact us using the class email address (willow@st-barnabas.kent.sch.uk).