Term 5 Week 2 Home Learning Tasks
Here are the home learning tasks for Wednesday 26th April 2023. Completed home learning tasks need to be handed in by Tuesday 2nd May 2023.
Maths
This week we would like you to practise making arrays with objects at home. Make different arrays using 12 objects in rows and column. Your array may be 2 rows and 6 columns like this: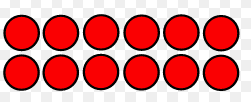 What other arrays can you make?
Can you make an array using a different number of objects?
Spelling/Phonics
Group 1
This week we would like you to practise spelling words containing the 'ie' digraph where it makes an 'ee' sound such as 'field' and 'shield'. Try completing the 'Home Learning Challenge' on the attached sheet.
Group 2
Complete the attached sheet by filling in the 'ee' missing words.
If you have any questions or need help with anything please contact us using the class email address (willow@st-barnabas.kent.sch.uk).