Friday 5th February
Here are today's home learning tasks.
Reading
While learning from home, you should be aiming for at least 20 minutes reading per day. This can be any type of text – fiction book, non-fiction, comic, newspaper, etc. A reading comprehension sheet has been included for you to try.
You can also visit the Oxford Owl website and access books online
https://www.oxfordowl.co.uk/ . The login details are:
Username: willow101
Password: pupil
Phonics
Today we are learning about the silent k sound in words like knee, knock, and knight. Below are some videos to watch going through some silent k sound words.
Silent k - Mr Thorne Does Phonics - YouTube
Geraldine the Giraffe learns Silent k - YouTube
Talk about the silent k sound. Can you say the sound? Can you write the sound? Look at the activity sheet attached to this blog and read the words. Can you write a sentence including one of the words on the sheet?
English
Today we would like you to think about all the amazing things that there are about you. In these strange and difficult times, we all need to reflect and remember the positive things about us. Attached to the blog is a sheet with some sentences to finish. There isn't much room to write on the sheet so perhaps ask an adult to help you write down some things on a piece of paper or in your home learning book. You could just talk to an adult about each question if you prefer. You don't have to finish all the sentences but it is important that you reflect on what makes you the amazing person you are!
Maths
Today, we learning about place value with numbers up to 50. Watch the learning video below and complete the learning task which is attached to this blog.
Using place value with numbers to 50 (thenational.academy)
Maths Fluency
Today we would like to practise finding missing numbers for these number bonds for 10. There is a sheet attached to the blog for you to use.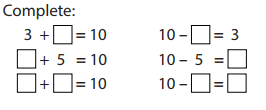 What do you notice about the numbers?
ICT/Creative
This week you have been thinking about things you like, your 5 senses and written a fact file telling people about you. To compliment this, some 2Dos have been set on Purple Mash for you to complete. You can draw your family, yourself and identify parts of your body.
If you want some time away from screens, there is a 'Fun Friday' activity from Purple Mash attached to this blog. It involves tasting food. Alternatively, you could draw a picture of your family or your favourite things to send us.