Wednesday 3rd February
Here are today's home learning tasks.
Reading
While learning from home, you should be aiming for at least 20 minutes reading per day. This can be any type of text – fiction book, non-fiction, comic, newspaper, etc. A reading comprehension has been included with this blog for you to complete.
You can also visit the Oxford Owl website and access books online
https://www.oxfordowl.co.uk/ . The login details are:
Username: willow101
Password: pupil
Phonics
Today we are learning about the trigraph 'are' which make an 'air' sound in words like spare, care and share. Below are two videos to watch which show some more 'are' sound words.
The /are/ spelling pattern - Mr Thorne Does Phonics - YouTube
Geraldine the Giraffe learns /are/ - YouTube
Talk about the 'are' sound. Can you say the sound? Can you write the sound? Look at the activity sheet attached to this blog and fill in the missing letters and words. Can you write some sentences using some of the words on the sheet?
English
Today we would like you to write a descriptive senses poem about your favourite things. Look at the poem below:
I love the taste of chocolate melting on my tongue.
I love the smell of warm cookies underneath my nose.
I love the feel of yellow sand soft between my toes.
I love the sound of birds singing at the dawn.
I love the sight of twinkling fireworks lighting up the darkness.
What is your favourite taste? What is your favourite smell? What is your favourite thing to touch or feel? What is your favourite sound? What do you enjoy looking at? Once you have picked your favourite things write them down in a similar format to the poem above.
You can write on the poem template attached to this blog or use your own format and write in your home learning book. Try to use adjectives (describing words) to add detail to your poem.
Please send in copies of your poems for us to read and add to the class blog.
Maths
Today, we learning about Tens and Ones and how to write some 2 digit numbers up to 50. Watch the learning video below and complete the worksheet attached to this blog.
Spr1.5.4 - Tens and ones on Vimeo
Maths Fluency
You can use objects that you have at home to help you work out the following number bonds.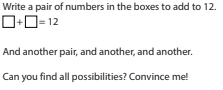 Topic
Our topic this term is Heroes and today we are going to start thinking about this question: 'What makes someone a hero?'. Look at the video attached to this blog. It gives some information about everyday heroes and the qualities everyday heroes have.
Once you have looked at it, write about your hero or heroes. It could be someone who does one of the jobs highlighted in the video or a family member or a pet. What is special about them? Why are they your hero? What qualities do they have?