Beech Class
Teaching Team: Mr Mackinnon, Mrs Atkinson and Mrs Johnson
Working with your child this term will be Mrs Atkinson (Mon-Tue), Mr Mackinnon (Wed-Fri), along with Mrs Johnson and Mrs Webb.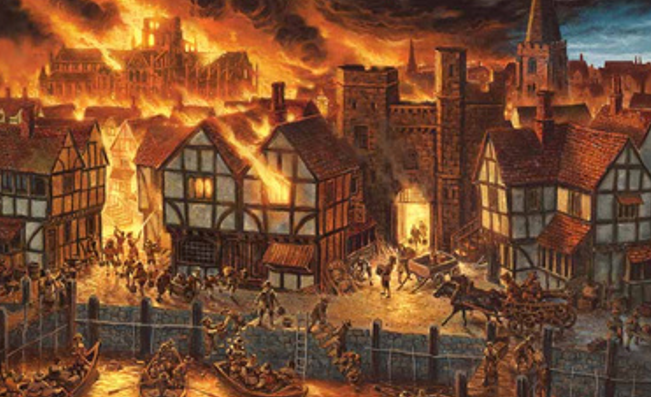 Fire and Ice
The 'Fire and Ice' topic will combine Literacy, Science, History, ICT and Art. Pupils will travel back in time to the extraordinary year of 1666- a year of both fire and ice. The inhabitants of London in 1666 witnessed two remarkable events- The Great Fire of London and the freezing of the River Thames. Year 2 pupils will explore both of these events and complete a variety of activities based on the National Curriculum designed to ensure that they learn in a creative, fun and meaningful way.
In addition, your child will be learning about the following:
Maths – Understanding place value, partitioning and sequencing 2 digit numbers, solving addition, subtraction, multiplication and division problems, calculations involving money, counting in 2s, 5s and 10s.
English – Information writing, descriptive writing, letter writing, diary entries
Science – Materials, planning and completing scientific investigations
ICT – Learning about coding and how to create computer programmes
RE – Creation and Incarnation
Music – Learning and singing Christmas songs
PE- Infant agility, gymnastics
Art/DT- Sketching, mixed media, painting and working with clay
Please support your child's learning with:
Home Learning – Home Learning books will go out on Thursday and will be expected back the following Tuesday. If for any reason your child is struggling to complete it, please speak to us or leave a note in your child's Reading Record.
Reading – Please read with your child every day and sign the reading record book. These books should be brought into school every day in your child's book bag. Please ensure that books borrowed from school are returned. New book bags can be purchased from the school office. We will do our best to swap your child's book two times per week. If your child requires a new book and it has not been swapped, please grab us at the end of the school day- we will be happy to swap the book for you.
Maths – When appropriate, MyMaths and/or Purple Mash activities will be set online. Usernames and passwords will be stuck into your child's Home Learning book. If you have any problems regarding passwords and logging on, please let us know- we will do our best to help.
Just a few reminders:
PE Kit – It is essential that your child has a house T-shirt, shorts and plimsolls or trainers in school every day so that they can participate in PE activities. In addition, long tracksuit type trousers are useful in the Winter months for outside PE. Long hair needs to be tied back for PE so please ensure your child wears a hairband to school. Also, earrings need to be removed or covered with tape during PE lessons. If your child is unable to remove their own earrings, please provide some microporous tape to cover them. This Term, PE will be on a Tuesday and Wednesday. Please ensure that your child's belongings are labelled.
Water Bottles
In order to help your child stay hydrated and be ready to learn, please make sure that they bring a labelled water bottle to school with them every day. We kindly ask that bottles are filled with water only- rather than juices or squash.
Pencil Cases
In KS1, there is no need for your child to bring in any additional stationary. We have everything that they will need to complete their learning in the classroom.
Toys and Games
In order to help us avoid any unnecessary distractions from our learning, we kindly request that toys and games from home are not brought into the classroom.
Show and Tell
If your child has recently achieved something, made something at home or has something that relates to our current learning, please encourage them to come into school and talk about it. We will always do our best to make time to foster the links between home and school based learning.
If you have any concerns or queries about information included in this letter or any other matter relating to your child's education, please do not hesitate to speak to us before or after school or contact Mr Mackinnon or Mrs Atkinson via the school office.
Many thanks,

Mr Mackinnon, Mrs Atkinson and the Year 2 Teaching Team.