Acorn Class
Unfortunately, school is temporarily closed for the majority of Acorn children at the moment. Please visit your child's tapestry account to access their daily home learning activities.
If you need any help or support, please do not hesitate to contact Miss Traviss directly using the class email address.
Teaching Team: Miss Traviss and Miss Burkinshaw.
If you have any questions speak to one of us before or after school or email acorn@st-barnabas.kent.sch.uk
Remember to check your child's Tapestry account to see what they have been up to in school!
Tuesday and Friday - reading books are changed, if your child has read the book at least twice.
Wednesday - library books are changed, if your child has returned the previous one.
Friday - PE day, please ensure your child is dressed in their PE kit.
Star of the week- 26th February
Our Star of the Week goes to Evie, for reflecting on her knowledge of Jesus during our RE session.
After thinking of words to describe what Jesus was like, including kind, helped others, Evie decided she wanted to be like Jesus when she grew up.
This Week's Learning.....
Phonics
In Phonics, we will be recapping the sounds and tricky words learnt so far. These are:
s a t p i n m d g o c k ck e u r h b f ff l ll ss j v w x y qu ch sh th ng ai ee oa igh oo (as in moon)
to a the I no go into put he
We will be learning the sounds and words:
oo (as in look) ar (as in card) or (as in fork) she
We will use these sounds to continue to practise our segmenting and blending to help us read and write cvc (constant vowel constant) words.
There are some reading books available on the following website - https://home.oxfordowl.co.uk/reading/free-ebooks/
Username: acorn101 password: pupil
I have also uploaded some more books on to the documents section on Tapestry; you can find them under reading books.
Most of the children in the class are working within Phase 2 and the beginning of Phase 3 (these are the sounds and words we have learnt so far in school) and at 'pink' level books or early 'red' level books. If your child is not as confident with the sounds and words learnt so far they are working at Phase 1 and 'lilac' level books.
Reading Eggs has step-by-step 'lessons' and activities to help your child with their reading - https://readingeggs.co.uk/
Jolly Phonics Reading Books - https://www.jollylearning.co.uk/jolly-phonics-e-readers-now-available/
Maths
In Maths, we will be looking at the number 8. We will be learning what the numeral looks like, how many objects make eight and how it looks in different scenarios (numicon, 10s frame, objects). We will briefly look at combining two groups to make 8.
We will also be looking at making pairs. The children will begin to understand that a pair means two. We will be looking at collections of items to make pairs, recognising that sometimes there will be an odd one and we will play matching and memory games.
Here are some stories, songs and games to support your child's learning this week: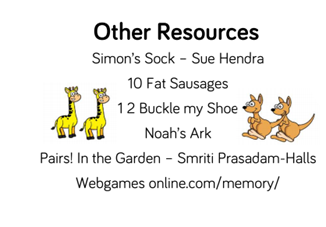 Wider Curriculum
Each day we will send home an additional wider curriculum activity, these will cover the curriculum areas of RE, writing, art and design, understanding the world and physical development. This week we will be covering:
Monday – 'How to Draw' - we will be using our mark making skills to draw a picture and have a go at writing a word or caption to match our picture
Tuesday – 'Talk for Writing' – we will continue more activities related to Mavis the Magical Cat
Wednesday – RE – we will be learning more about the Easter story and why Christians celebrate Easter
Thursday – Art – we will be creating our own self portraits
Friday – PE – we will be continuing to get active from home
Live Sessions
These are opportunities to interact with the rest of the class whether they are at home or in school. This week we have…
Monday – Story time at 2.30pm
Tuesday – Phonics Input at 9.30am
Wednesday – Phonics Input at 9.30am
Thursday – Phonics Input at 9.30am
Friday – Celebration Assembly at 9am
Friday – Story time at 11.30am
Please see Parent Pay emails or Tapestry on how to access these.
Information continued from previous weeks....
Reading
All children should read an age appropriate text for a minimum of 10 mins per day. This can be an age appropriate reading book or sharing a picture book with an adult. Please talk about the story and use questions such as:
(Looking at the front cover) – What do you think this story is about?
What did __________ (character) just do?
Why do you think they did that?
What do you think ________ (character is like?
What do you think will happen next?
Why do you think that?
Which part of the story did you like the best? Why?
Which part of the story did you like the least? Why?
How did the story start?
What happened at the end of the story?
What happened in the middle of the story?
What does _______ (character) feel like at the end?
How did this story make you feel?
Who are the characters in the story?
If you were _________ (character), what would you have done?
Please join Miss Traviss and the rest of Acorn class for a virtual story time on Monday and Wednesday (more information to follow).
For decodable books for your child to read, please look in the documents section on Tapestry under 'phonics'.
Writing/Mark Making
Please encourage your child to do some writing/mark making each day. "Writing" in EYFS can be very different depending on your child's stage of development. Here are some examples of how "writing" may look:
Mark making - your child is either drawing pictures or drawing marks of symbols. If your child is still at this stage, it is very important for them to talk about what they have drawn or written. Please encourage them to talk about what they have done.
Writing letters or initial sounds – your child has drawn a selection of pictures e.g. a sun, a dog and a house. They have written a "s" for sun, "d" for dog and "h" for house.
Writing a collection of letters – your child has heard some sounds in the words they are writing – I m goi to the pk – "I am going to the park"
Writing a collection of letters that are phonetically plausible – your child has heard more sounds in the words they are writing, but it doesn't look "correct! – I am goin too the parc – "I am going to the park"
Please do not worry if your child hasn't spelt something correct, however, if they ask how to spell a particular word either ask them to listen to the sounds in the word as you say the word or explain how to write it. Please use the sound mat provided to encourage your child to find and copy the sounds they are trying to write.
Here are some ideas for your child to demonstrate their writing/mark making:
Write a story
Draw a picture and label it
Write a shopping list
Make a sign
Write a card
Write a letter
Draw a map
Write a list of instructions
It is always great to hear from parents about how home learning is (or isn't working). If you need further ideas or would like to send feedback on how you have found the home learning so far, please email Miss Traviss on acorn@st-barnabas.kent.sch.uk
It is always fantastic to see photos of the children learning at home, either email these to Miss Traviss or upload to Tapestry.
Why is my child coming home from school so dirty and messy?